---
---
Promos
Billboards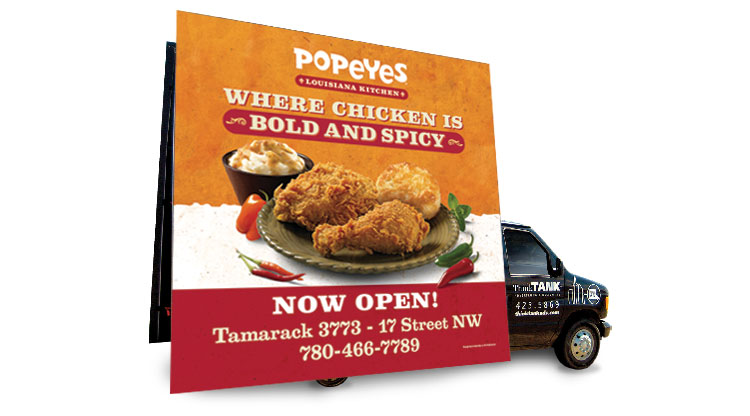 AdVans
Trailer Billboards
Digital Marketing
Vehicle Wraps
Storefront Signage
Portable Signage
Land for Rent
Welcome to ThinkTank Advertising & Design, where creativity meets results in the heart of Edmonton, Alberta, and beyond. We are not just your average advertising agency; we are the dynamic force behind the success stories of businesses in Edmonton, as well as numerous cities and towns throughout the province of Alberta.

With years of experience under our belt, ThinkTank Advertising & Design has honed its expertise to deliver unparalleled advertising and design solutions. We understand that every business is unique, and that's why our range of services is as diverse as the Alberta landscape itself. From captivating graphic design to strategic digital marketing, from eye-catching billboards to engaging social media campaigns, we've got you covered.

Our team of industry-savvy professionals thrives on pushing boundaries, challenging norms, and thinking outside the box. We don't settle for mediocrity; we strive for greatness. Our work speaks volumes about our commitment to excellence and our passion for delivering exceptional results.

Whether you're a small local business looking to make a big impact or an established brand seeking to stay ahead of the competition, we have the creative firepower and strategic know-how to help you rise above the noise. We immerse ourselves in your brand by understanding your goals and tailoring our services to meet your specific needs.

At ThinkTank Advertising & Design, we believe in the power of collaboration. We don't just work for you; we work with you as a true partner, combining our expertise with your vision to create campaigns that leave a lasting impression. Our client-centric approach ensures that you receive personalized attention and tailored solutions that drive tangible results and ROI.

But don't just take our word for it. Our extensive portfolio speaks volumes about our track record of success. We have helped businesses of all sizes across Alberta achieve their advertising goals and elevate their brand presence. From innovative startups to well-established corporations, our clients trust us to deliver, time and time again.

So, whether you're located in Edmonton, Calgary, Red Deer, or any other city or town across Alberta, ThinkTank Advertising & Design is here to fuel your success. Let us be your creative catalyst, your strategic partner, and your secret weapon in the ever-evolving world of advertising and design.

Ready to take your brand to new heights? Contact ThinkTank Advertising & Design today, and let's embark on an exciting journey of innovation, creativity, and unmatched results. Together, we'll make waves in Edmonton, Alberta, and beyond.
---