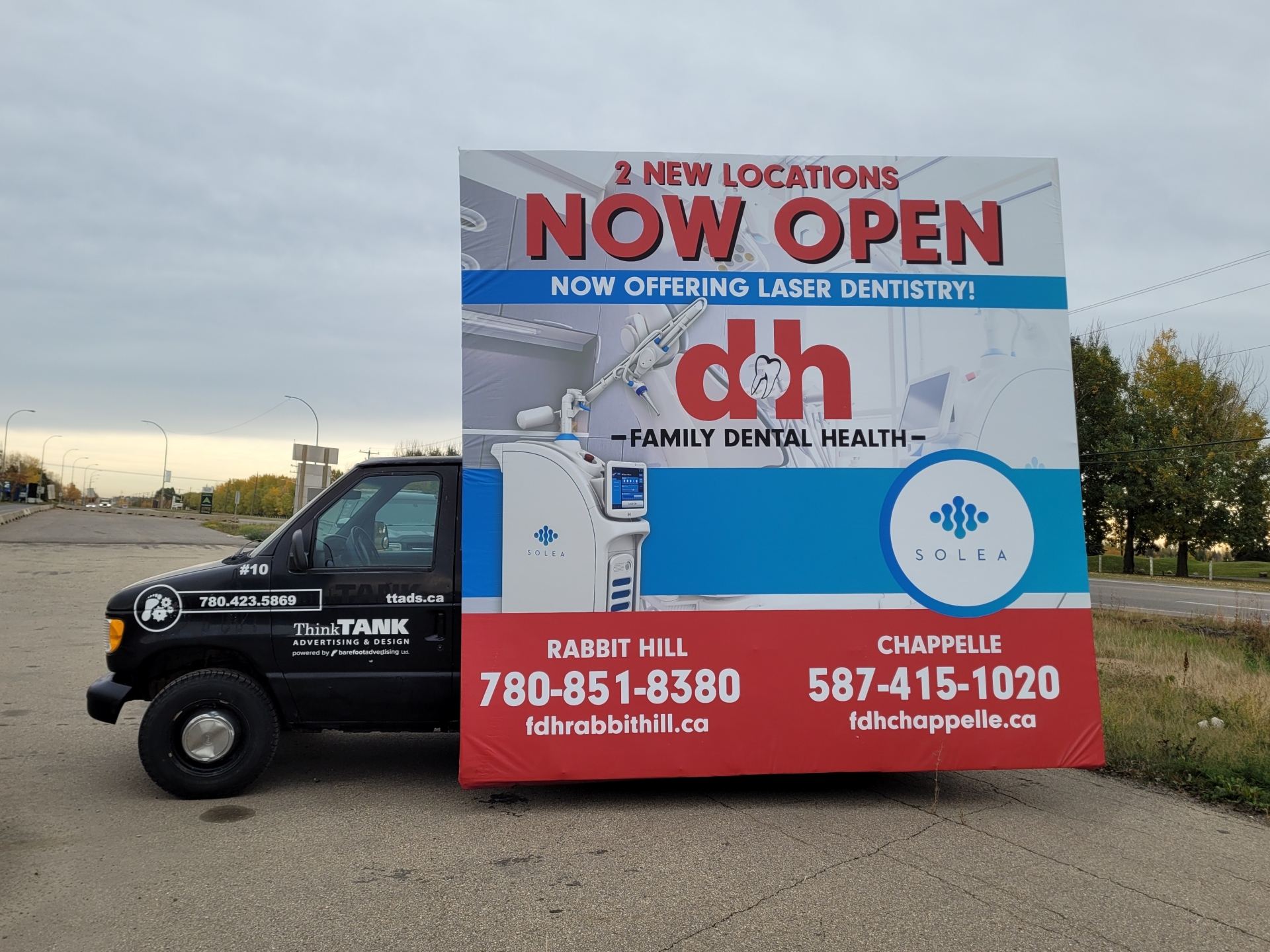 What is an AdVan anyway?
We are ThinkTank Advertising and Design, the leading provider of Ad Vans (aka 'Mobile' Billboards) in Edmonton, Alberta. Prepare to discover an innovative and highly effective way to promote your business: our dynamic and attention-grabbing mobile advertising solutions.

ThinkTank Advertising and Design specializes in creating impactful marketing campaigns that make your brand stand out from the competition. Our Ad Vans offer a unique and powerful advertising medium that allows you to reach your target audience wherever they may be.

Why would a business want to advertise with an Ad Van from ThinkTank Advertising and Design? The answer is simple: visibility, versatility, and impact. Here's why:
1. Maximum Visibility:
Our Ad Vans are strategically designed to command attention. Equipped with large, high-resolution LED screens or eye-catching vinyl graphics, your brand message will be displayed prominently and attractively, capturing the attention of pedestrians, motorists, and passersby. With their mobility, Ad Vans can navigate high-traffic areas, busy city streets, and popular event venues, ensuring that your message reaches a vast audience.
2. Targeted Advertising:
Ad Vans allow you to take your message directly to your target market. Whether you want to target specific neighborhoods, reach a particular demographic, or promote an event or sale, our Ad Vans can be strategically deployed to maximize your advertising reach. By placing your brand message in high-traffic areas or near popular events, you can generate buzz, increase brand awareness, and drive foot traffic to your business.
3. Flexibility and Cost-Effectiveness:
Unlike traditional static billboards, Ad Vans offer unparalleled flexibility and cost-effectiveness. You have the freedom to change your message, update promotions, or target different locations, giving you the ability to adapt your advertising campaign in real-time. Additionally, Ad Vans provide a cost-effective solution compared to other forms of advertising, allowing you to achieve a wide reach without breaking your budget.
4. Memorable Brand Experiences:
At ThinkTank Advertising and Design, we understand the power of creating memorable brand experiences. Our Ad Vans provide an immersive advertising platform that captivates your audience and leaves a lasting impression. With creative design elements, engaging content, and interactive features, we ensure that your brand message is not only seen but also remembered.
Partnering with ThinkTank Advertising and Design for your ad campaign via Ad Vans means gaining access to our experienced team of marketing professionals who will work closely with you to develop a compelling and targeted advertising campaign. We handle all aspects, from conceptualization and design to logistics and execution, so you can focus on growing your business.

Join the ranks of satisfied clients who have experienced the impact of ThinkTank Advertising and Design's Ad Vans. Take your advertising to new heights, reach your target audience effectively, and create lasting brand impressions. Contact us today and let our mobile advertising solutions drive your business success in Edmonton, Alberta, and beyond.
---