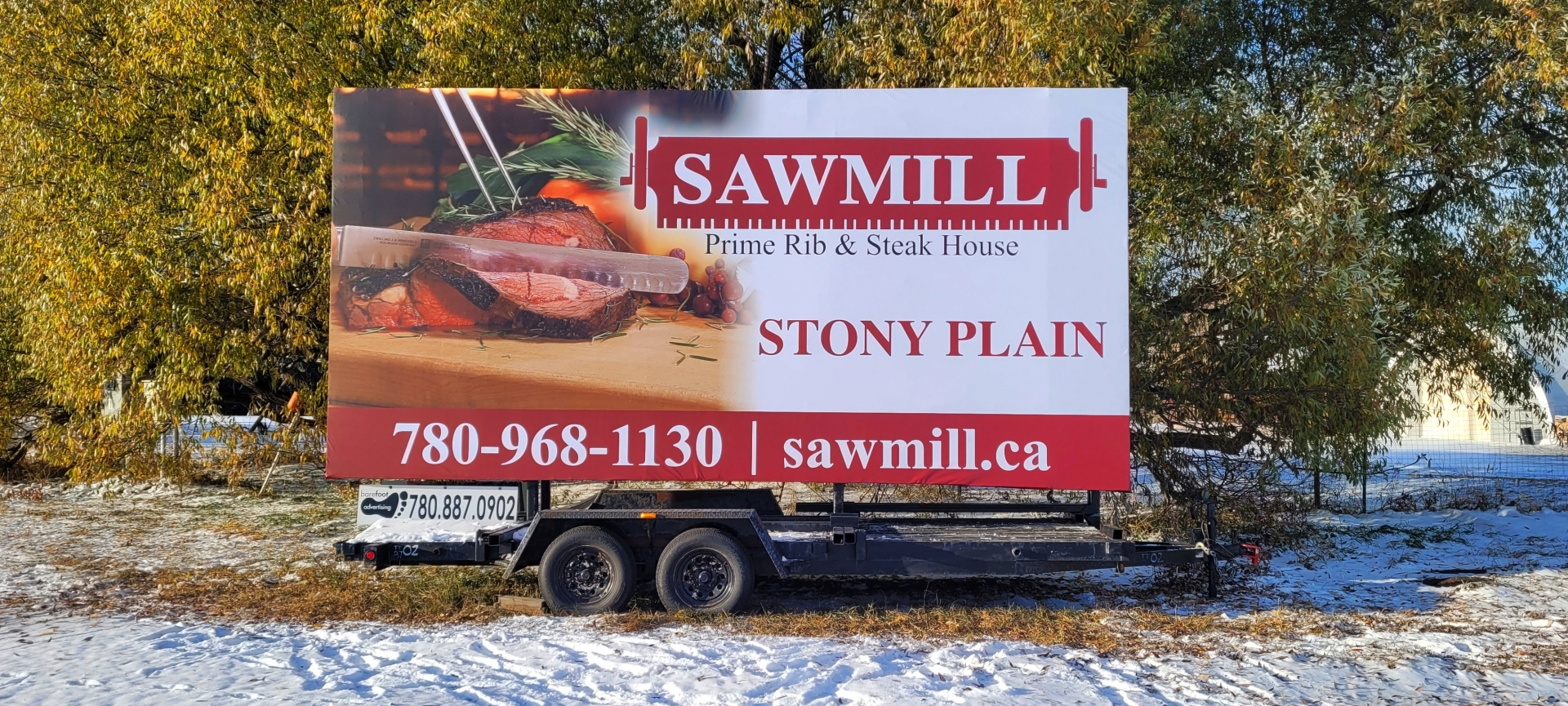 What is a trailer billboard?
We are ThinkTank Advertising and Design, the premier provider of Trailer Billboards in Northern Alberta!
Let us introduce you to an innovative and eye-catching way to make your brand stand out: our dynamic and captivating Trailer Billboards.

ThinkTank Advertising and Design specializes in creating impactful mobile advertising solutions that drive attention and deliver results. Our Trailer Billboards combine the power of traditional outdoor advertising with the versatility of mobility, allowing your brand message to reach a wider audience in strategic locations throughout Edmonton and beyond.

What sets our Trailer Billboards apart is their ability to captivate and engage viewers on the move. With their large, high-resolution displays and strategically placed messaging, our trailer billboards command attention and leave a lasting impression on both pedestrians and motorists. Imagine your brand message displayed prominently on a sleek and modern billboard, mounted on a flat deck trailer so it can be positioned along busy roadways where no static billboard exists and commanding attention wherever it is placed!

Why choose ThinkTank Advertising and Design's Trailer Billboards?

The answer is simple: maximum exposure and impact. Whether you're launching a new product, promoting a special event, or increasing brand awareness, our Trailer Billboards offer unparalleled visibility and reach. They can be strategically positioned in high-traffic areas, at major events, or along popular routes, ensuring that your message reaches your target audience effectively.

Our team of creative experts will work closely with you to design a compelling and visually stunning billboard that captures the essence of your brand and resonates with your target market. We utilize state-of-the-art technology and high-quality materials to ensure that your message is displayed with clarity and brilliance, even in diverse weather conditions.

ThinkTank Advertising and Design takes pride in our commitment to exceptional customer service. From the initial consultation to the installation and maintenance of your Trailer Billboard, we strive to provide a seamless and hassle-free experience. Our dedicated team will handle all logistics, including permits and regulations, allowing you to focus on what you do best – growing your business.

Join the ranks of satisfied clients who have experienced the impact of ThinkTank Advertising and Design's Trailer Billboards. Take your brand to new heights and reach your target audience like never before. Contact us today and let our mobile advertising solutions drive your success in Edmonton, Alberta, and beyond.